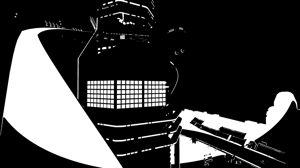 The road elevated. The Inner Spires rose into view, gold slathered over light. At a distance, from the city perimeter, they were towers. Drawing nearer, they appeared uglier to the eye—stubby, inglorious volcanos, long cold.
The truck drew them nearer. The rain was still stiff as a snare line. The corroding tires swept away the gathered acid wash.
"Feel that?" Rahz asked. Orry set his fingertips to the door.
"Wheels are vibrating on the axel," Orry said.
Rahz kept her hand on the wheel. "There are only ten pinches of calliban connecting the drivetrain to the axel, but there are two hundred and sixteen ferrum rivets holding the truck together. The calliban can survive in this climate. The ferrum—" she held the thought, clenching the wheel.
"Can we make the return trip?" Orry asked.
"No," Rahz answered. "Not on these wheels. Not with our skins."