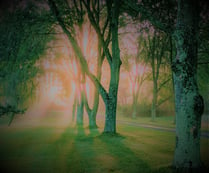 CHAPTER XXI
I woke. My mind had been elsewhere. I recognized later that while I had been wide awake and functioning, holding conversation, and going about the morning, that memory eventually went missing. I know for some time, I was asleep—unconscious, perhaps—and at other times, I was wide awake. Neither formed memories. It all went missing, corrupted like a drop of poison into pure water.
The last events I can recall for you, reader, was an anachronistic conversation in the infirmary. I was once again locked in one of the witches cages. Piece by piece, I remembered the students gone missing, the illusive women's dormitories, and the names I'd heard, but never had the opportunity to meet.
"Hello, Keziah," I heard a voice say.