Saints Row: The Third

| | |

(originally published November 30, 2011)

". . .[Saints Row: The Third] a super-deformed, weaponized-speedball that knows the difference between good and evil."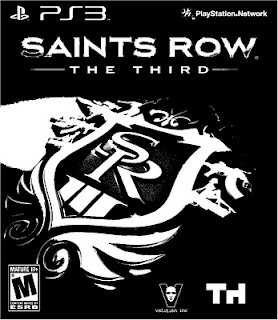 There has been serendipitous fun in videogames for more than 25 years. Beating The Legend of Zelda in one sitting is serendipitous fun. Running through a grand prix cup in Super Mario Kart with the always-tiny cheat is serendipitous fun. Juggling a velociraptor with a quad rocket-launcher in Turok: Dinosaur Hunter is serendipitous fun. Doing backflips off the highway median in a stolen Yakuza sportscar in Grand Theft Auto III is madness and all-consuming and fun. These things are special because we discover them within a defined, but easily violated, set of rules that the videogame has laid out before us (. . .rules like gravity). This madness becomes ours and becomes true, golden escapism. Even if we are told somebody else discovered that exact same bar of gold, it's never theirs, it's ours. As far as we're concerned, dad invented speedruns when he accidentally beat Super Mario Bros. in 1989 in eight minutes.
Saints Row: The Third was probably made by a covenant of college students that spent a lot of time avoiding responsibility for their actions in Liberty City, probably the GTA3 version, and they learned where serendipitous fun came from, challenging us now with the question: "Why brew our game from anything that isn't instinct, projected?" That's freedom -- not being given the ability to do anything and told to find your fun, but rather anticipating what people will want to do with the dark materials given to them.