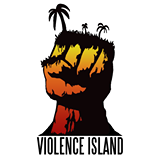 Are you searching for the definitive podcast for a topic? Did you know that statistically, 36% of podcast listeners skim through their episodes? That isn't a joke. There's pressure to get through the episode and on to your next thing, isn't there?
That's the trouble. You're unsure if this is the best podcast for the topic you're listening to. Is this the best podcast for music, for history, for video games, for sports? You skim through each show's episode and don't fully absorb any info.
This segment will set recommendations for The Best Podcast on a given topic.
Today, The Best Podcast For: Determining Who Would Win In A Fight.
VIOLENCE ISLAND is the best podcast for determining who would win in a fight.
Corralled by main host, Alex Jaffe, and his two arbiters, tim rogers and Vito Gesualdi, Violence Island is a free form debate contained by a strict, evolving set of rules. Each debate begins with the usual question: "who would win in a fight?"
The dark drama builds from there. BUILDS is the opportune word because a weird mythology starts to coalesce over the episodes. The fights take place on the titular Violence Island, which may seem a normal tropical isle floating outside space and time, it is also more than you'd expect. As a location where any fictional or real entity can be summoned, some of the wiser characters and beings start to discover the purpose of these sickening matchups.
They start becoming aware they might be on a podcast.
In one instance, a power blip during the recording prevented the episode from taking place. So what do the hosts do? They assemble a security force in the next episode to protect themselves from threats, considering the studio is likely under some sort of attack, and the power blip is the first volley in a coming war.
There is continuity between episodes. If a T-Rex is unleashed into the jungle in one episode during a monster-battle themed debate, it might pop up again during the debate over Batman versus Columbo.
The list of potential fighters is long. The matchups are bizarre and random. Each is faced with total seriousness.
While the hosts bear thorough pop-culture and literature knowledge, they're logical and practical, even in the face of the polymorphous green Flubber fighting Bo Jackson in a jungle.
The show constantly escalates. Each episode's champion is saved for a final round of sixteen in the given season's finale, carrying with them experience and battlescars that do not go forgotten.
This is the purest debate of "who would win in a fight" in recorded human history.

Hosted on the website, earthblows.com, Violence Island is available on iTunes and other platforms, naturally.
Violence Island describes itself as: "political, primordial, pure, free-jazz fanfiction." There is no better podcast for determining who would win in a fight.