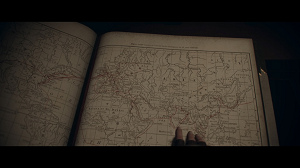 What're you reading this summer? Really, not anything? No, if it has the word "GIRL" in the title, it doesn't count, sorry.
You've got a phone, don't you? You probably even have an iPad. Here's a hint, check the Kindle store for free stuff.
You don't need to spend any money on summer reading just yet. There's a great library of free books to read online over on the Amazon Kindle Store. This will help you narrow the search...
The Cask of Amontillado
We'll start off easy with a short story from Edgar Allan Poe. Fitting for the summertime when partying and drinking are in such abundance, Amontillado is a story about petty revenge. We follow Montressor's narration of the night he plotted to kill his friend Fortunato during Carnival.
The dreadful march to the obvious conclusion intensifies as Montressor feeds his friend alcohol and lures him into the catacombs with promises of the very specific wine vintage. I've said before that partying with the wrong people is one of summer's unique thrills, mainly because there's always a chance these weirdos will murder you dead in Italy.
The story was initially published in 1846. It's a straightforward summer read, and it's a great addition to the hundreds of free books to read online. Go grab it.
Oliver Twist
Yeah, that Oliver Twist. Initially published over the course of several years between 1837 and 1839, the Dickens crown jewel is an unromantic saga of London's grotesque underbelly from the orphan child's perspective. All the stuff you associate it is in there: work houses, starvation, thievery, cruel Englishmen, and eventual resolution, believe it not. Yes, Oliver Twist has an ending!
Before it arrives, there's endless unique characters and exposure to the bottomless poverty London breeds. Oliver, like many classic literature characters, has no good options, yet he remains a benevolent, innocent force in an environment that would eat his soul, given the opportunity.
Perspective is a funny thing. If you're old enough to have and need a regular working job, have you begun to notice the injustices? Have you noticed how there's been injustice for all of human history? Lessons like those remain poigniant in Oliver Twist and the other free books to read online!
The Lost World
No, not that Lost World, The Lost World. Yeah, that one. Not the dinosaur one. Well, it's got dinosaurs. And guys going to find them. But it doesn't have weaponized gymnastics.
Anyway, The Lost World is written by Sir Arthur Conan Doyle, inventor of Sherlock Holmes and Benedict Cumberbatch. It's a classic dive into the South American jungle to discover missing civilizations, ape-men, and battles with dinosaurs.
It's a winning formula and equally fascinating to get a glance at how people imagined dinosaurs in 1912.
Like other pulp adventure on this list, don't dismiss The Lost World, or any of the other free books to read online. Punch the link and download!
Anna Karenina
Yup, ending again with a heavy hitter. Yes, it's Russian. Yes, it's Tolstoy. Yes, it's often considered the greatest book ever written.
Since it's Russian, you have to come to grips with, and say it with me, "We'll never really understand it." Nevertheless, I'll borrow the term gothic to attempt to describe its scope. It's a challenge. There's threads of marriage, societal norms, religion, love, divorce, and isolation. Certain editions of the book can clock in at 1000 pages, so buckle up, if you want to drink a lifetime of thick, brutal drama.
If you're curious about the building blocks of modernist style, well, lucky you, Anna Karenina is the genesis, and it's one of the free books to read online featured on Amazon's Kindle app.
ONE LAST THING: Did you miss the other articles in this Kindle Marketplace recommendations series?