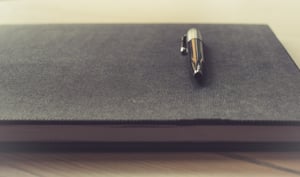 I continue to struggle with explaining my own creative process. I struggle to explain it to myself. I struggle to explain it to other people.
In fact, I've almost given up explaining it to other people. If I were a crueler person, I'd do this out of prickly, self-serious superiority. Instead, I, like many people, often let impossibility poison my desire to share.
If you want to know how to write about a creative process, begin by sharing with groups providing criticism you can react to and implement...
Catalog why you have a creative process.
You want a creative process to carry momentum. Process is the kindest thing you can apply to your work. It means you care enough about an audience to anticipate their questions. It means you aren't too proud to belittle those people asking the questions.
It means you respect the people you wish to mind-transfer your knowledge to.
How do you catalog it all?
I write everything down. It's a reverse to-do list. I write down everything I do, sometimes with small notes, and at the end of the day, I review it. I see all the messages I've sent, the people I've spoken to, and the things I've written. If you want to know how to write quick blog posts, you can read about my technique.
Then I share it with people that might care.
It's not easy to know how to write these things down, or why, because it depends from one person to the next. You'll have to decide how to tackle this yourself.
A creative process is not a thing you do in a day. It's a process. It's ongoing, executed, and refined.
If you expose the process to sunlight, its shortcomings heal. You fix small things here and there. If you don't record anything, you don't respect the people you're creating for, in which case, uh, move back in time to Bohemian-era France, jerk. Good luck with the consumption.
You should catalog your creative process in the way most conducive to its improvement. Be brave. Your work doesn't belong to you.
What part of the creative process should you record?
Start at the high level. Your organizational process. Your method for writing or creation.
Be clear and honest. If you can't do this, your process is weak. That's a sign you have something to fix. If you aren't sure how to write your process, document a few drafts before sharing.
Sharing your creative process is part of the process. It makes you stronger. It's conditioning. Closing yourself off can be part of the process, but never permanently.
Start by sharing the process with people whose honest opinions you expect you can act upon. While these people would not be impartial, you wouldn't interpret a negative reaction from them as a personal attack.
Those are just small tips. You'll never know how to write it all down without trying and to repeat one last time, your process is unique, even if you learned it somewhere else. In an instant, it evolves because you're executing on it.