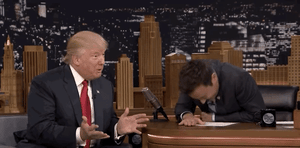 In an innocuous gesture, Jimmy Fallon, host of The Tonight Show Starring Jimmy Fallon, made one request of Republican presidential nominee, Donald Trump: "Can I mess up your hair?"
Jimmy Fallon, an entertainer, a non-dramatic entertainer, a television host, a guy who does impressions, and a man with all the station and opportunity in life to recognize wrongness and exact goodness, asked the violent figurehead of an established hate group, "hey, mind if I run my hand through your fur like you're the family dog?"
There is no joke more hollow to demonstrate that Donald Trump is a better comedian than Jimmy Fallon. Jimmy Fallon betrays comedy.
Jimmy Fallon is the luckiest man in show business.
Jimmy Fallon won't technically be the topic for this piece. He will instead be the lens slotted into the machine to magnify how toothless a comedian is when he or she doesn't use their status as the honest fool to point out the serious-people's honesties and inconsistencies.
Jimmy Fallon is proof that certain people can afford to be calm in this election and in this moment in American history, because they are not threatened by an Axis Germany-level bigotry and xenophobia.
Jimmy Fallon is now a Donald Trump foot soldier.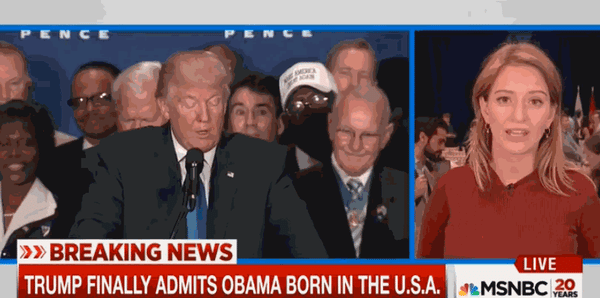 Jimmy Fallon couldn't be trusted to make announcements over a bowling alley's PA system.
Jimmy Fallon would definitely be trusted to EmCee Carrot Top's Rockin' Las Vegas Funeral, Presented By AT&T.
Jimmy Fallon has never been funny by accident.
Jimmy Fallon is the St. Louis Cardinals second baseman of comedy.
Jimmy Fallon's brand of comedy is sub-YouTube.
Jimmy Fallon is a human inside a smooth-skinned, human-sized Muppet costume that was sent a cease and desist to stop mailing unsolicited try-out tapes to the actual Muppets.
Jimmy Fallon has ridden Tina Fey's coattails his entire career.
Adam Sandler is a funny Jimmy Fallon.
Jimmy Fallon didn't ruin Jurassic World, but he'd still be one of the first against the wall if this was anywhere besides 21st century America.
Jimmy Fallon is the lifeform that occurs happens when you're too white and normal-looking to be taken seriously and your comedy is never provocative enough to warrant getting the shit kicked out of you.
Jimmy Fallon is your dad's personal subreddit brought to life by the American Express marketing department.
Jimmy Fallon has never been tired a day in his life.
Jimmy Fallon is the man who takes Nero's drink order while Rome burns.