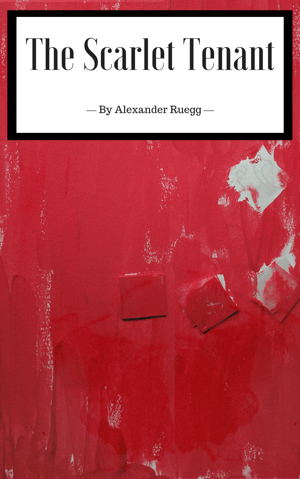 It's time for our Friday update! First the good news: progress is abundant on Diffused States' second chapter. In fact, there's too much material. At halfway, it's tracking to be twice as long as it should be.
This means, the word count will reach upward of 15,000. Taking the average reader's speed into account, 15,000 words takes about 70 minutes to read.
That's too long. It should be down more around 9000-10,000 words. The chapters on Ghost Little, of course, are divided into smaller sub-divisions while maintaining a story through-line.
The chapter will eventually be completed. Then some edits will need to happen to Diffused States first chapter—currently available for download like the rest of the free books on its downloads page—to assure continuity.
Today, you'll get a little insight into how the free book samples themselves. With The Scarlet Tenant the most recent publication, let's use it as our guinea pig.
If you have free books for download on your site, clarify what it is, and why it's free.
Everything about Ghost Little's books have been planned from the very start. In particular, each book's chapter was structured as a module. The first chapter of each story can be cracked off like a chunk off an iceberg and dropped in your drink. They're small, contained stories that can be enjoyed as singular examples. They're also the first step in a larger story. This was on purpose. It drives the free books' purpose
You might notice the Pixar influence to the story structure? I drew up a post on the Ghost Little wiki to detail what methods were used and which were modified.
This is all because the transparency into the process is part of Ghost Little's model. I want to welcome people in to see how I worked this stuff out. That's why we have the free books available for download. The blog, the wiki, each book's first chapter contained in the free book samples—these are all invitations in. They're free books for a reason. A website is a communication line. It has to exist. If you don't use it to communicate, then you're doing yourself a disservice, and you're potentially frustrating a fanbase.
Hang on, let me take a sip of this cup of coffee for a second. I made it using a pour-over. It was way simpler than I imagined it'd be.
Oh, you're here?
Here's a secret, there is an ideal order to read Ghost Little's stories. The Scarlet Tenant is the "canonical," starting point. Download it here!
That was a good break. Back to the matter at hand: Ghost Little has planned these free book samples into the creative process from the beginning. It's an element to bring a fanbase in, let them browse around, and hopefully give you something you'll enjoy.
If it's just a blog post about the creative process, that's great. Go for it. If it's an initial chapter download, even better. I hope there's something here that fits your taste. Or, I invite you to try something new and different?
As for the downloadable free books themselves, they need the following before going live:
Cover art—Kindle book covers are 2813 x 4500 pixels, and Google Play Books are 1618 x 2500, and there're even more over on ebookcoversize.com
Workable file types—for Kindle devices and apps, it's ".prc," for everything else like Google Play Books or iBooks, it's ".epub"
Meta data—most ebook creating apps have a meta data-editing space where you tell the file its name and author so it can properly display once the book is in the e-reader app
Notes and version history—each of the free book samples includes "patch notes" at the end, including language changes between older versions and current versions so you can see what's been updated
Landing page and thank you page—for the sake of tracking each book's popularity and helping you stay in the loop with project development, each download requires a reader enter an email on a landing page, before being redirected to a thank you page to download their sample
With that, it's ready for distribution. This is the most barebones assembly possible, but I hope you find it at least a little interesting.
There's no secret about how it works. Once workable, complete versions of a book is available, they'll be sold for a true dollar-amount, but until then, it's all free.