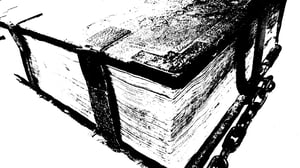 Writing and self-publishing a novel in roughly 25 days isn't out of the question. Now, that writing and publishing milestone isn't going to make any modern writer a single red cent. Nevertheless, posting a working "beta" draft, something that may become a novel and people may one day pay to read, must become measurable.
I've approached this declarative moment.
Ghost Little has built a living document, a library of free books to read online, tailored to modern reading habits and written with digital distribution at its foundation.
This is how to write a short novel and how indie authors can get their work out there.
It's simple, but it isn't easy.
Above all else, you need material to put out there. It's about you doing that. If just you want to know how to write a blog post, you can excuse yourself and tackle that task, because writing a novel is a different animal. Nothing else will happen unless your singular creative vision is prepared and made available. The moment you overcome self-doubt, or at least determine your creative compulsion is a greater force, you'll be on step nearer.
Still curious how to write a novel? Certain you want to do it? Want to focus on the writing process and looking for help on the process?
Great! I present the process for writing and preparing your free books to read online:
1. Your first novel will be sorta short.
Prove to everyone you can do it in a compact format first. If you looked up how to run a marathon, the first item would be to run some shorter races first. Want to write a 1000-page sci-fi epic?
Write a compact story first.
2. Your first novel will be approximately 50,000-55,000 words.
There are roughly 250-300 words per manuscript page, which makes this a roughly 200-page book. When I say, "sorta short," this is what I mean.
3. Your first novel will require a deliberate word-count structure. It'll keep you honest until you get comfy.
I adhere as closely to word-counts as I can. Sometimes I nail it, but not always. It's a powerful editing tool, cutting the excess fat, while assuring you don't overextend or dwell too long on a topic.
I divide mine up into main chapters with sub-chapters inside for personal, life-learned reasons:
Chapter 1: 4,000 words
Chapter 2: 9,000 words
Chapter 3: 6,000 words
Chapter 4: 6,000 words
Chapter 5: 20,000 words
Chapter 6: 5,000 words
Why's it like this? I'm not going to tell you. It's a secret.
If you need more structural guidance, refer to my dissection on the Dan Harmon Story Circle.
4. Your first novel will nail a 50,000-55,000 word / 200 page target.
This is plenty of real estate to craft a propulsive story while never wasting an extra moment on excess.
5. Per Stephen King: write 2000 words per day.
This is optimal. You owe yourself 2000 words a day. If you can't reach 2000, write 1000 words a day and work your way up. Find a sequestered location and hammer it out. You want wordcount, not "oh, I re-edited this part for 2 hours." One activity at a time. That comes later.
I write best in mornings. Assuming I can isolate myself, I usually hit the 2000 word-count before lunch, sometimes sooner if I'm really firing.
6. If consistent, you should write 50,000 words in 25-30 days.
Congratulations! Consistency is the key. You'll hit creative peaks and valleys throughout. You cannot improve your finishing skills if you never finish anything though.
Want to know how to write a novel? This is the short answer.
7. Make immediate edits to your existing draft.
Give yourself a limited time, maybe a week or two, to complete this.
You have a working beta draft, which means it's time to share it with the world. Deliver the draft to friends, family, or strangers. Ask for feedback. This period of feedback will be fairly prolonged, but you want be implementing any changes just yet.
8. Forget about the manuscript draft.
Throw it in a file. Set the Google doc / Word file aside. Let the feedback continue coming in, but you aren't going to touch it for a long time.
Yes, one of the steps in how to write a novel is forgetting your wrote anything.
9. Start on your next project.
Get back up to step no. 1 and start over with your next project. You need to keep your writing skills sharp while your draft gestates.
10. After 3-6 months, return to the first beta draft.
Now it's time for you to read it. Read the feedback from friends and family. Now that you've taken a moment to remove your ego and protectiveness from the equation, begin your edits.
11. Explore publishing channels.
Once you've gone through editing, either on your own, or (ideally) with a professional, you can post it along with the other free books on Amazon or charge $5 for it. Because it's worth it, right?
What's this process look like in action?
Remember, this is all the name of disrupting sidestepping publishing middle-men. Do the creativity and promotion yourself and do it better than anyone else would. You know what your work deserves.
I've been streaming my method on Facebook LIVE to keep myself honest and make the process available to the audience. I'm sure you can do the same.
Follow Ghost Little on Facebook to keep up with the production. I've recently completed my first draft of "The Scarlet Tenant" using this structure and methodology. Now it's on to hard edits before sliding the thing into the drawer for a while. It'll be up on Amazon someday. Maybe I'll see you there ;-)
Tell a friend. Tell the friend to tell a friend. Let's do something original.