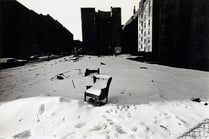 CHAPTER XVI
Lorna's self-awareness and honesty inspired a thought. She did not use the word, annihilate, accidentally. She sat before me, intact, but confessed without pause she had planned to unmake her entirety of being.
And rebuild. To bring yourself to nothing, and rebuild. She never verbally stated she meant to harm herself or mentioned suicide by name. Metaphysically speaking, ontologically speaking, she would cease being one thing and become a different sort of energy. For a woman in her field of study, this was a pointed choice.
"It was after a series of sessions with Gustave, the results of which he recited back to Dirk, that I became aware of Kendrick's presence," Lorna said. "In the same way that I sensed blood in the room when I spoke with Gustave, a scent gone unspoken, it became apparent Kendrick was haunting Gustave himself. Invisible at first to me, of course. I soon realized it was often Kendrick's voice, his words, coming from Gustave's mouth, perhaps by accident, or perhaps as an homage to his colleague. In most academic fields, men will mimic the most confident or flamboyant when they themselves lack sufficient soul to go forth unshielded. They might, in time, gather enough points of influence—to study under enough teachers with a diversity of viewpoints—that a courageous individual might form. Others find it warm beneath the dragon's wing and become zealots.